You can make this morning perfect for your son by sending these good morning messages to him. These good morning quotes for son will depict your unconditional love for him.
Good Morning My Son
A good son like you deserves every best thing in his life, have the best morning, my dear.
Get up, my baby, keep struggling. Success is waiting for you.
Good morning my handsome son, wake up with a bright smile. It is a beautiful morning. I hope you have a great day ahead.
Dear son, you are the most important person in my life, don't regret the decisions that you have made in your past, and start your morning with a new hope.
My son, just a thought of you makes my morning and the rest of the day beautiful. I am grateful to God because he blessed me with such a sweet son.
My beautiful son, you know that you are the world to me; without you, I am incomplete.
Wishing you a glorious morning, do not fear anything, and always hope for the best.
Good Morning Son Quotes
Following are some good morning son quotes that you can use to send to your son to remind him that you love him and care for him.
Dear son, I send you my wishes every morning when I wake up because I miss you so much each day. I love you the most and waiting for your coming. Have a good morning, my love.
My son, God is watching you and won't let you down. So do your best in whatever you want to do.
My baby, no matter how far I am from you, remember that I love you.
You have a good and beautiful heart; I hope you are always surrounded by good people too.
My son, God gives us new opportunities every morning to do something better, so don't miss yours.
I know my son is a fighter, and you won't give up no matter what. And I am so proud of you for that.
My love, it doesn't matter how long it takes to be successful. I wish everything you desire will come to you; I love you, my son.
Good Morning Wishes to Son in Law
A son-in-law is also an essential part of a family. If he treats your daughter with love and care, he deserves to be treated and appreciated with love. Here I am sharing some beautiful words of wishes for you that you can say to your son-in-law to show him his importance in your family.
Dear son-in-law, you are the best life partner for our daughter. We are so lucky to have you in our life as our daughter's husband. You are as precious to us as our daughter is to us. I wish every morning of yours would be beautiful like today.
To my dear son-in-law, you may not have been born into our family, but I want to tell you that you are an essential member of our family too.
My dear daughter's husband, I am o grateful to God! Because my daughter married such a beautiful soul. I pray that God bless the two of you always.
Dear son, I am a proud mother-in-law. Your beautiful upbringing made you treat our daughter like a princess—lots of prayers and love for you.
My precious son-in-law, you deserve all the happiness in the world. Just remember that you have our back in all problematic situations. So never think that you are alone.
Good morning to a good human being and the world's best son-in-law. Keep smiling every morning and the rest of the day.
May life always bless you with fortune, strength, and power. So, you can stay happy with our daughter.
Good Morning Quotes for Son
Telling your loved ones about your feelings using heart warming quotes is a very beautiful way. You will find some good morning quotes that you can share with your sons to express your feelings to them here.
My dear son, want to say that don't stress yourself too much at work. I hope your morning will be beautiful as you are my child.
My beautiful son, telling you that I love you and miss you every morning is my favorite thing to do. Keep smiling.
I hope this morning brings you as joy as you bring me, my dear son.
My sweetheart, I hope you slept well. You are an amazing son. I hope your day will be wonderful.
People will talk about you to demotivate you, but don't listen to them and prove with your efforts that they are wrong.
Don't try to make everyone happy. Just do what makes you happy. Have a great morning, son.
My child, be thankful for what you have in your life. Just don't compare yourself with others because you are different from them.
Good Morning Wishes to Son from Mom
Following are some beautiful good morning wishes a mom can send her son.
I pray to God to make your way easier and fill your life with happiness and joy. Morning my dear child.
My dear son, the bond between you and me is unbreakable. Nothing will change our love, whether you are here or far from me.
A mother's love is unconditional for her children. My love, you are the apple of my eye. My prayers are always with you.
My dear baby, you are a special gift from God. Now you have grown up, and I wish you good luck in your life.
My love never made decisions to make someone else happy. Just do what is right and what makes you satisfied. Have a happy morning.
You are the most handsome man in the world, my son. You are my pride. Never feel alone.
Respect your dreams and struggle hard to achieve them, and you will be successful one day.
Good Morning Wishes to Son
Here I am going to share some good morning wishes for your son that you can send to motivate him to start his day with joy.
My dear son, I love you more than anything. Thank you for coming into our life.
My lovely son, you can tell and share everything which bothers you with me without any hesitation. I am always here for you.
Have the best morning, my dear son, and you are the reason that makes me smile every morning. Love you with all my heart and son.
My dear child, keep smiling and stay happy. Seeing you happy make me forget all my worries.
My son, you are the only hope that makes me live more. May God bless you with happiness and success.
My dear love, I may get hard on you sometimes, but there will be no one who could love you more than me. You are the world to me.
My baby, no matter how old you become, I'll always hold your hand with love, just like the day you were born. Have a good morning.
Good Morning Messages for Son
I am sharing some good morning messages here, and these messages will not only inspire your sons but also make them think that there is someone who thinks about them.
My son, on this beautiful morning, I wish you the courage and strength to face the challenges of your life. Just stay calm and positive.
My dear child, life is not easy. There are always ups and downs, happiness and sadness. But you must be strong to survive them because you are my son and can do that.
Never stop struggling in your life, my dear son. It is the key to success. Good morning, love.
My dear son, lots of hugs from me to you. Get up and start your morning in a happy mood.
My child, don't ever forget that you have me by your side today, tomorrow, and forever.
Never hurt that person, my son, who cared about you and was sincere with you. It will be the most significant loss for you.
Good morning dear son, I am sending you my love, prays, and lots of smiles on this beautiful morning.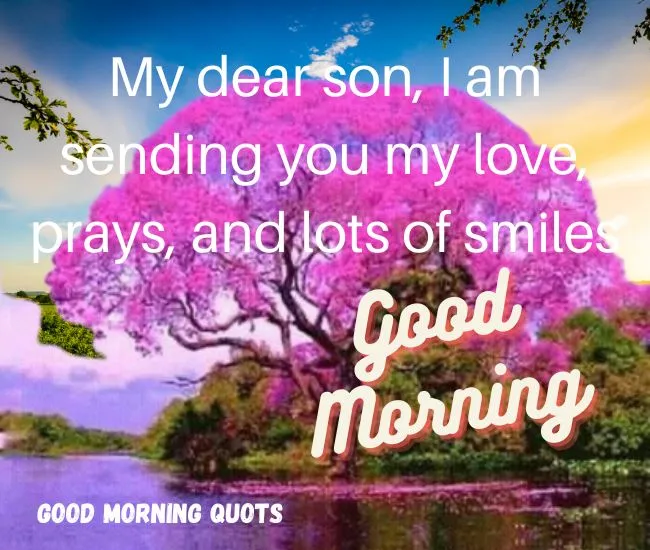 Good Morning Son
When you wake up in the morning and send a morning wish/message to your son then it will surely make his day motivated and inspiring. Here, I am sharing some wishes/messages that you can send to your son.
My dear son keeps doing good things in your life it makes me feel so proud. I pray for your success.
My son may you have a good morning, I want to tell you that you are so important and precious to me.
You filled my life with happiness and positivity my son, may God bless every morning of yours.
Every morning is a new start to do great things, so don't waste your chance to make great things happens.
My dear son, I believe in you and your abilities I know you have a bright future. Keep shining like always.
May God make your ways of success easy, just remember that God is with you and my prayers are with you to.
I wish you a blessed and positive morning, you are a great human being and a great son.